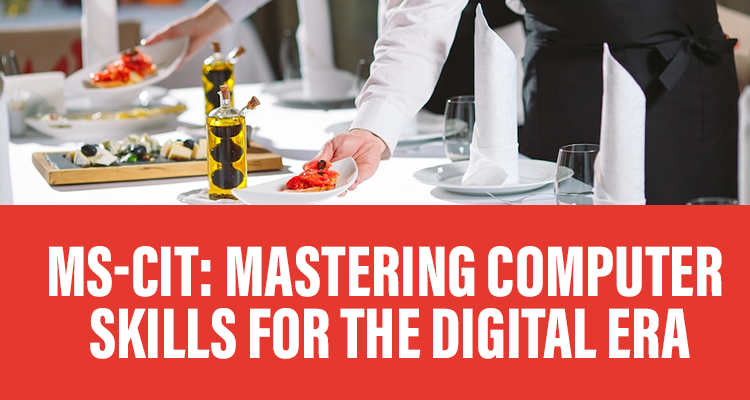 Introduction:
The Maharashtra State Certificate in Information Technology (MS-CIT) is a comprehensive computer literacy course in Maharashtra, India, designed to equip individuals with essential computer skills for the digital era. The course covers topics like operating systems, word processing, spreadsheets, presentations, internet usage, and email communication. It is regularly updated and offers practical training through lab sessions. Upon completion, participants receive the recognized Maharashtra State Certificate in Information Technology, validating their computer literacy and employability prospects. The course promotes continuous learning and career growth in IT.
Here are some key features of the MS-CIT course:
The MS-CIT course offers a comprehensive curriculum covering diverse topics, including hardware, software, and architecture. It is regularly updated to keep up with technology trends and industry requirements. The course emphasizes practical orientation, progressive learning, and relevance to personal and professional life, providing practical knowledge for various aspects of life.
Practical Training:
MS-CIT emphasizes hands-on training, providing participants with practical experience in using computer applications. It includes lab sessions, real-world scenarios, guidance and support, and practical exercises and projects. These sessions enable learners to apply theoretical concepts, develop problem-solving skills, and enhance their proficiency in using computer applications in personal and professional settings.
Certification:
The Maharashtra State Certificate in Information Technology (MS-CIT) is a prestigious certification issued by the Maharashtra State Board of Technical Education (MSBTE). It offers government recognition, validation by educational institutions, and job opportunities. It also serves as proof of computer literacy skills, ensuring candidates can navigate digital tools and applications. The MS-CIT certification also offers career advancement opportunities, allowing participants to pursue diverse career paths and contribute to professional growth. Overall, the MS-CIT certification is a valuable asset for those seeking to improve their employability and career prospects in information technology.
Accessibility:
MS-CIT is a beginner-friendly course that covers fundamental concepts like hardware, software, and operating systems, providing a strong foundation in computer knowledge. It follows a step-by-step learning approach, with trained instructors, self-paced modules, and tailored content. The supportive learning environment caters to both beginners and advanced users, ensuring they can join regardless of their starting point.
E-Learning:
MS-CIT offers e-learning modules that cater to individual preferences and schedules, allowing participants to study at their own pace. These resources include online learning materials, supplementary classroom sessions, self-assessment and practice quizzes, and interactive learning experiences. These resources support self-paced learning, reinforce understanding, and accommodate individual preferences and schedules.
Continuous Learning:
The MS-CIT course focuses on lifelong learning, adapting to technological changes, embracing continuous learning, building a strong foundation in computer skills and applications, and fostering awareness of emerging technologies. It provides a comprehensive curriculum that can be pursued through specialized courses, certifications, or higher education in areas like programming, web development, data analysis, cybersecurity, and more. The course also emphasizes industry relevance, aligning its curriculum with industry requirements and trends, equipping participants with industry-relevant skills and applications that increase their employability and career prospects. By fostering a mindset of lifelong learning, providing a strong foundation, and emphasizing industry relevance, MS-CIT empowers participants to stay relevant in the digital era and continuously acquire new skills and knowledge to thrive in the ever-evolving digital landscape.
Conclusion:
MS-CIT is a comprehensive computer literacy course that equips individuals with essential skills to thrive in the digital age. It provides a solid foundation in computer applications and technology, enhancing employability prospects and promoting lifelong learning in the field of information technology. By completing the course, participants gain practical skills and a recognized certification, making them more marketable and enhancing professional credibility. The course goes beyond just teaching basic computer skills, ensuring success in the ever-evolving world of information technology.